VISPER350CLWZ
Manual Inspection Machine for Production Panel Size.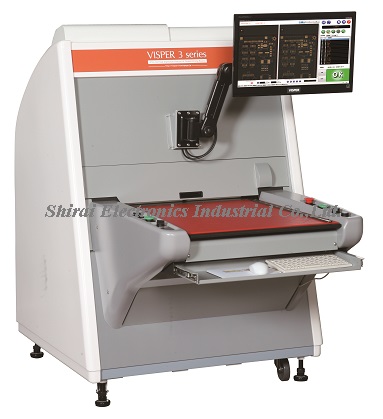 Software focused on its usability
By switching the master mode and operator mode,VISPER can be realized the registration process smoother.The latest software is equipped with many capable function for reducing the setup time.
Solution with VISPER Support System
By connecting VISPER and VISPER Support System on the network,
it can be possible to do the total support from inspection to quality control issues.
Dimension & Approx. weight
Dimension
 1,020mm x 1,460mm x 1,690mm (WxHxD)
(40 1/4inch x 57 1/2inch x 66 1/2inch)
Approx. weight
 390kg (860lb)

VISPER350CLWZ Specification
Resolution
Applicable PWB size
 25μm (0.99mil) , 35μm (1.38mil) / pixel
 Max : 510mm x 660mm ( 20 1/8inch x 26inch )
 t=0.6mm~1.6mm (t =0.024 - 0.063inch)
Request a catalogue.